Want some evidence that electing public school supporters to the Legislature makes a difference? Read on, and then be sure to VOTE in Tuesday's primary election. It matters – a lot. You've probably seen lots of spin around what is being hailed nationally as the Mississippi Miracle – dramatic improvements in Mississippi's national ranking in 4th-grade reading. Political bloggers want you to believe that their favored candidates deserve the credit. The voucher crowd wants you to believe the progress isn't real. Here's the truth… Mississippi teachers have been churning out these impressive increases in NAEP (National Association for Educational Progress) 4th-grade reading test scores for 30 years. The progress isn't new. Mississippi started way behind and has been steadily closing the gap in achievement since the scores were first reported in 1992. The Parents' Campaign took a look at the scores in each year that NAEP was administered and compared them to related events in the same period. What we found was a remarkable correlation between school funding and student achievement.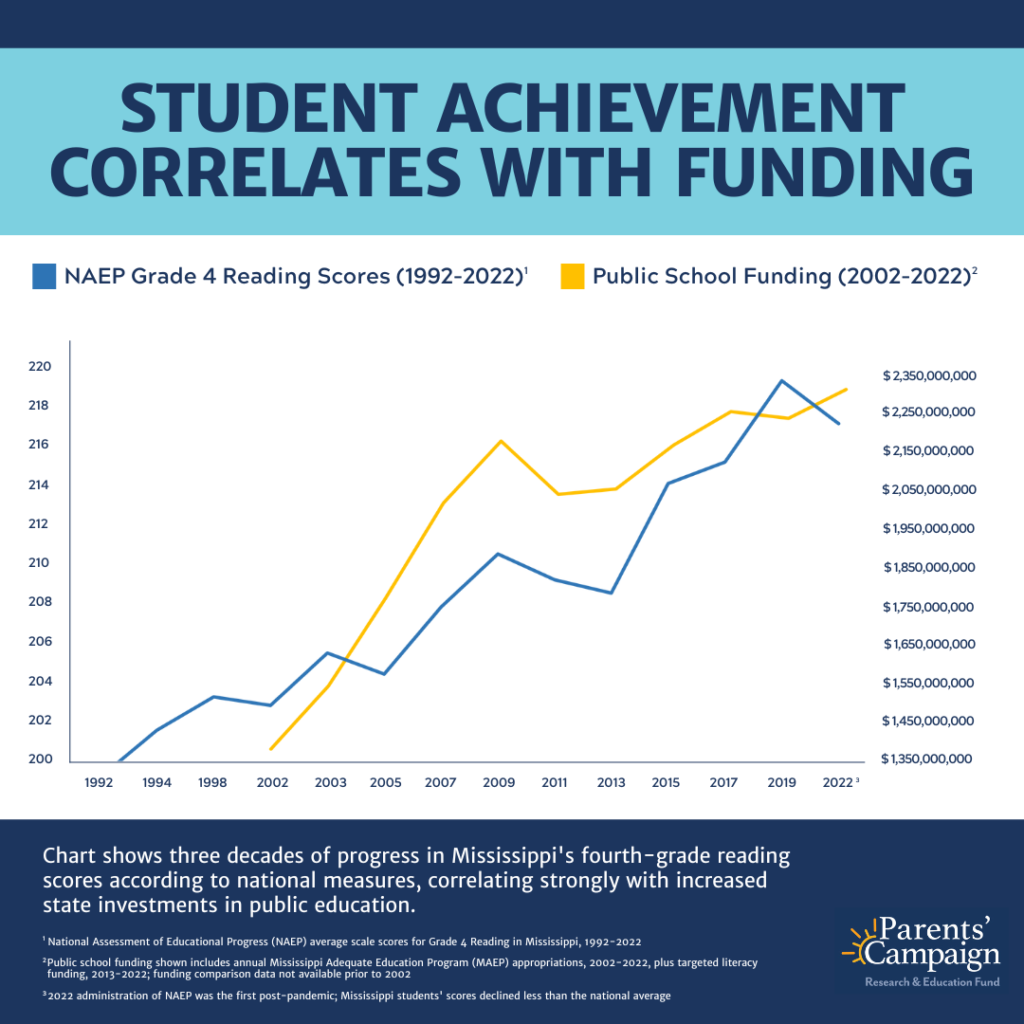 When we supply our teachers and students with the resources they need to be successful, they deliver. Click here to see a timeline of events and advancements in achievement. Mississippi's progress in achievement is very real. If we want it to continue, we must elect legislators and statewide officials who will invest in our public schools. Here's how a few minutes of your time over the next week can make that happen…
Read what candidates for the legislature and statewide office said about public education issues on our Candidate Q&A survey
VOTE in the primary election for candidates who support public schools 

Circuit Clerks' offices are open for ABSENTEE VOTING Monday-Friday from 8am to 5pm and this Saturday from 8am to noon
Primary Election Day is Tuesday, August 8 – polls are open from 7am to 7pm

Forward this email to your family and friends and share our Facebook, X (Twitter), and Instagram posts
Encourage everyone you know to vote for pro-public school candidates
If you want to do more, check out our Election Toolkit – a quick and easy how-to for electing state leaders who prioritize public education.The work you did four years ago to elect pro-public school candidates really paid off. Since then, we've seen:
Teacher pay raises averaging more than $6,100 per teacher

A $202-million increase in school district funding, over and above teacher pay raises

Quadrupled state funding for high quality pre-k

Tightening up of the ESA voucher program to reduce fraud

The defeat of a barrage of harmful legislation
We cannot afford to go backward. If each of us does our part, we can re-elect lawmakers who have been supportive of public schools and replace those who haven't.
Many races in this election will be decided in the primary, so please don't miss this opportunity to elect public school supporters in your district. Our children and teachers have delivered for us time and again – let's deliver for them in the 2023 Election. Together, we've got this!