We have so many reasons to be thankful! 
We are exceedingly thankful for the tireless teachers who, day in and day out, do whatever it takes to ensure that our children develop the skills they need to be successful – even when the world turns upside down. Our teachers' jobs are exceptionally difficult and monumentally important, and we are thankful for the legislators who are working to right the ship by improving teacher compensation.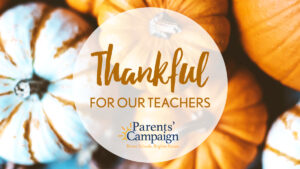 In the past two tumultuous years, our teachers have been a steady rock in the face of shifting expectations. For so many of our children, teachers represent their best hope for a fulfilling life. They are among life's greatest blessings!
We are thankful for the thousands upon thousands of you who are standing in the gap for Mississippi children, fighting for strong public schools in every community. Your work is impressive and meaningful! Mississippi is a better state because of you.
And we are thankful for your support of The Parents' Campaign for these 15 amazing years. Your volunteerism and monetary gifts are the underpinning of our success. Our every accomplishment is because of you.
Giving Tuesday is coming up. As you plan your year-end gifts, please keep us in mind.
In the meantime, we wish you a Thanksgiving holiday filled with the blessings of family and friends.