Once again, the Senate has saved the teacher pay raise for Mississippi teachers!  We're so very grateful to Lt. Gov. Delbert Hosemann, Senate Education Chair Dennis DeBar, Senate Appropriations Chair Briggs Hopson, and the Senate Education and Appropriations Committees for rejecting petty politics and taking up the House pay raise bill by today's deadline.
In a repeat of last year's revenge politics, the House killed both Senate teacher pay raise bills, denying the Senate passage of its top-priority bills for the second year in a row.
Revenge for what, you might ask. The buzz at the Capitol is that House Speaker Philip Gunn is furious that the Senate has declined to destroy the state budget with his irresponsible income tax elimination plan, so Gunn reportedly insisted that the Senate teacher pay raise bills die.
Senators, for their part, though plenty mad that the House killed their teacher pay raise bills again, declared that teachers and children should not be treated as pawns in a political standoff and vowed to do what's right for them, despite the House shenanigans.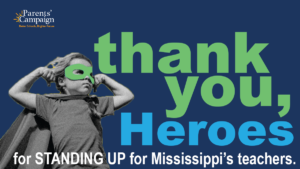 The Senate Education Committee inserted its own pay raise language into HB 530 and added a $2,000 salary increase for assistant teachers. Explaining the bill in committee, Chairman DeBar lauded the Senate's efforts to address in the bill the issues that are important to teachers, saying, "We have had hearings, we've traveled around the state, and we've listened to teachers. This bill…has been drafted by teachers for teachers."
Teachers have taken to social media to express their appreciation for the Senate's statesmanship and their dismay at the House's inaction. 
Please thank the Senate Education  and Appropriations Committees for making our teachers a priority and keeping their well-deserved pay raise alive. 
Check our Bill Tracker to see how other bills we are following fared on deadline day.
This Thursday, you'll have a chance to hear some REAL TALK from a spectacular lineup of speakers who will discuss the impact strong public schools have on our local and state economies, as well as the potential impact of proposed income tax cuts. The event is hosted by our sister organization, The Parents' Campaign Research & Education Fund, and you won't want to miss it!
What: Virtual REAL TALK with business leaders, economists, and child advocates
Where: Zoom – get your link to join the meeting here
When: Thursday, March 3, at 5:45 p.m.
Submit your questions for guest speakers in advance by emailing them to info@msparentscampaign.org. This event is supported by the Community Foundation for Mississippi with a grant from the W.K. Kellogg Foundation.
The bills that have passed committee now await floor votes – including the teacher pay raise. This saga is far from over, and we are likely to need your help again. Please be sure to thank Chairmen DeBar and Hopson and their committee members for their support of our children and teachers. And thank you for your calls to legislators and the leadership. Your voice is important, and together, we've got this!