Senate Bill 3164 would strip $317-million annually from the state budget, threatening teacher pay and school budgets. It just passed the Senate Finance Committee and could come up for a vote of the full Senate any time. Senators need to hear from you right away!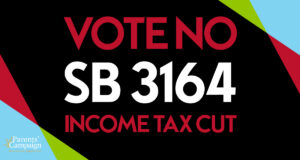 SB 3164 would eliminate the 4% state income tax bracket over four years, reducing state revenue significantly. All the while, legislators are telling teachers that they can't afford to bring teacher pay to the Southeastern average, telling parents that they can't afford to fully fund their public schools, and telling children that they can't afford to honor the Building Fund that would help to fix their schools' moldy classrooms and broken bathrooms.
 Please ask your senator to VOTE NO on SB 3164.
Find contact information for senators who represent your school district
Capitol Switchboard: 601.359.3770
And please tell Lt. Gov. Hosemann that you oppose any income tax cuts.
Lt. Gov. Hosemann: 601.359.3200
Mississippi has tried eliminating the 4% state income tax bracket before. It didn't work out well. Then, like now, revenue was up considerably, so legislators argued that the state could afford it. They were wrong. More than a decade of budget shortfalls followed, and the Legislature was forced to raise taxes – twice – to rectify the situation. 
If Mississippi cannot afford to fully fund public schools and pay teachers at the Southeastern average, we cannot afford an income tax cut. It's that simple.
Please call your senator and Lt. Gov. Hosemann today. Urge them to choose our children and teachers over income tax cuts. Ask your family and friends to call, too. The votes are coming fast, so time is of the essence. Together, we've got this!