A long-time member of The Parents' Campaign, Shelley Tingle has played an integral role in numerous victories for public schools. Whether she's recruiting new members to be engaged in our work or digging into education policy, Shelley's enthusiasm for public education is contagious.
Newer to The Parents' Campaign but no less enthusiastic, Toni Lowe-Fisher has jumped into advocacy with both feet. Convinced that our work is critical to the success of public schools – and thus the vitality of our state – she is among our most committed supporters.
Both of Vicksburg and both fully invested in the Vicksburg-Warren School District, this dynamic duo is ensuring a brighter future for children in their own community and those all across Mississippi.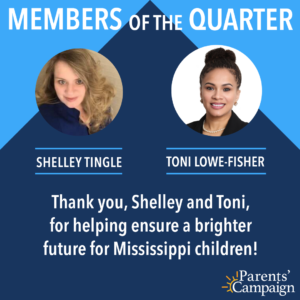 That's why we've named Shelley Tingle and Toni Lowe-Fisher The Parents' Campaign's Members of the Quarter.
The mother of three graduates of Vicksburg-Warren schools, Shelley has worked to establish specialty STEM camps for students in her school district, was an active supporter of her children's schools and extra-curricular activities, and continues to coordinate strategic community partnerships to support the district. The relationships she has built along the way frequently benefit her local public schools and the work of The Parents' Campaign. 
The parent of a current Vicksburg-Warren student, Toni believes that strengthening public education will have a lasting impact on her own son and thousands of children across our state. She wants every Mississippi child to have a shot at success, so she is helping us expand our network, sharing our resources, and educating others about the legislative process in her quest to achieve that goal. 
Congratulations, Shelley and Toni, and THANK YOU for making a difference in the lives of Mississippi children!

Advocates like these make The Parents' Campaign successful. That's why we recognize outstanding members throughout the year, lifting up the ways they advocate for public schools, and acknowledging their efforts with a $50 Visa gift card – a small token of our appreciation for all the ways they improve the lives of Mississippi children.
This is a great time to help us spread the word about The Parents' Campaign. Take a moment to reach out to your friends and neighbors and encourage them to join our network. They can sign up online here. Because, as Shelley and Toni know, together, we've got this!