The House has passed the teacher pay raise!! The vote on the conference report for HB 530 was 118 to 4. See the House vote.
It now awaits Gov. Reeves' signature, the final step in this historic move to bring Mississippi teacher pay closer to the Southeastern average.
The bill provides a $2,000 raise for assistant teachers and higher salaries for certified teachers at all experience levels and classifications, including:
Minimum starting pay of $41,500

Average salary increase of $5,140

Annual step increases of $400 (A), $525 (AA), $550 (AAA), $600 (AAAA)

Larger step increases at years 5, 10, 15, and 20:

$1,200 (A)

$1,250 (AA)

$1,300 (AAA)

$1,350 (AAAA)

$2,500 increase at year 25 for all classifications
The full pay raise will take effect July 1, 2022. See the new salary schedule.
Please join us in thanking Senate Education Chair Dennis DeBar, Vice Chair David Blount, House Education Chair Richard Bennett, Vice Chair Kent McCarty, Sen. Briggs Hopson, Sen. Hob Bryan, Rep. Kevin Felsher, and Rep. Jansen Owen for their work on the legislation and all our House and Senate heroes who voted for this important measure.
It is absolutely critical that we not allow income tax cuts to wreck the school district budgets that are essential to pay the higher teacher salaries.
Please call your legislators with two important messages:
1. Thank you for passing the teacher pay raise!
2. VOTE NO on ANY income tax cut, which would devastate public schools!
Find contact information for legislators who represent your school district
Capitol Switchboard: 601.359.3770
Send the same message to House Speaker Philip Gunn and Lt. Gov. Delbert Hosemann.

Speaker Gunn: 601.359.3300
Lt. Gov. Hosemann: 601.359.3200
Next Monday is the deadline for a vote on these harmful tax cut proposals. Call your legislators today and urge them to stand with Mississippi voters who want strong public schools, safe roads and bridges, secure neighborhoods, a reliable state retirement system, and access to state services that improve our quality of life. Together, we've got this!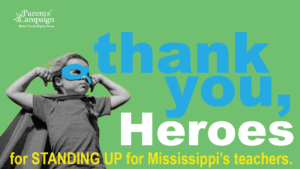 us