Terry Boler gets it. She knows it makes a difference when public school supporters speak up on behalf of Mississippi children, and she takes advantage of every opportunity to do just that. An educator in the DeSoto County School District, Boler is a public school champion who constantly strives to ensure a brighter future for her students and those all across our state. As an enthusiastic member of The Parents' Campaign, she is making a difference for Mississippi children statewide.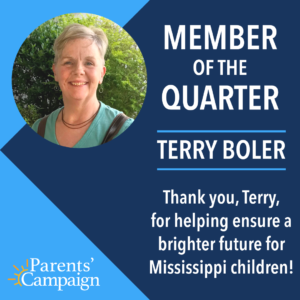 That's why we've named Terry Boler The Parents' Campaign's Member of the Quarter.
A savvy participant in our grassroots network, Terry stays in close contact with our team, frequently reaching out to get the latest information on hot topics or to request data that is specific to her school district. She volunteers her time outside the classroom to make co-workers and public education supporters aware of challenges and opportunities facing public schools, and she helps them become effective advocates. 

"Terry understands the legislative process and is happy to educate others accordingly," says Holly Dean, Director of Member Services for The Parents' Campaign. "She never stops at the answer, but asks who, what, where, and why to get to the root of the situation. She is an agent for positive change."

Congratulations, Terry, and THANK YOU for making a difference in the lives of Mississippi children!

Advocates like Terry make The Parents' Campaign successful. That's why we recognize a Member of the Quarter four times each year, lifting up the ways they advocate for public schools, and acknowledging their efforts with a $50 Visa gift card – a small token of our appreciation for all the ways they improve the lives of Mississippi children.

This is a great time to help us spread the word about The Parents' Campaign. Take a moment to reach out to your friends and neighbors and encourage them to join our network. They can sign up online here. Because, as Terry Boler knows, together, we've got this!