Sandra Wells takes every opportunity to stand up for the children in the Hollandale School District. A longtime volunteer in Hollandale's public schools, Wells spearheads meetings to ensure that other parents are informed about important education issues and to encourage their involvement. Her advocacy is improving life for children well beyond her local community. As an enthusiastic member of The Parents' Campaign, she is making a difference for Mississippi children statewide.

That's why we've named Sandra Wells The Parents' Campaign's Member of the Quarter.
An exemplary participant in our grassroots network, Sandra stays in close contact with our team, frequently reaching out to get the latest information on hot topics or to request data that is specific to her school district. She uses that information to educate others in her circle and to inspire them to join us in advocating for public schools. 

Sandra is an influencer who helps us spread our message by sharing our social media posts and forwarding our emails, and she works to develop strong relationships with her legislators.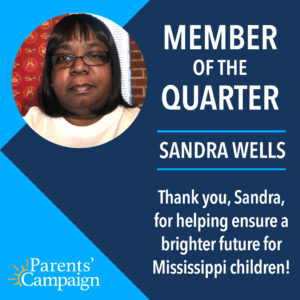 "When we ask our network of public school supporters to speak up on behalf of Mississippi children, Sandra always is among the first to respond," says Karen Johnson, Director of Outreach for The Parents' Campaign. "Sandra faithfully contacts her legislators and state leaders to share with them her views on legislation and policies, and she is very effective in recruiting and mobilizing other parents and grandparents to do the same."

Congratulations, Sandra, and THANK YOU for making a difference in the lives of Mississippi children!

Advocates like Sandra make The Parents' Campaign successful. That's why we recognize a Member of the Quarter four times each year, lifting up the ways they advocate for public schools, and acknowledging their efforts with a $50 Visa gift card – a small token of our appreciation for all the ways they improve the lives of Mississippi children.

This is a great time to help us spread the word about The Parents' Campaign. Take a moment to reach out to your friends and neighbors and encourage them to join our network. They can sign up online here. Because, as Sandra Wells knows, together, we've got this!