As an educator and a parent, Jennifer Colson knows well what students need to be successful – and she's made it her mission to see that they get it. Understanding that knowledge is power, Jennifer does her research, taking advantage of The Parents' Campaign's resources to stay up-to-date on proposed legislation and policy that affect our children's education. But she doesn't stop there. Jennifer has conversations with lawmakers about the impact of education bills, and she shares her knowledge with other parents and teachers so they, too, can speak up for Mississippi students.
That's why we've named Jennifer Colson The Parents' Campaign's Member of the Quarter for the third quarter of 2021.
A 30-year educator (currently an elementary school librarian in the Rankin County School District) and enthusiastic participant in our grassroots network, Jennifer believes that public schools are a positive force for good in Mississippi, and she wants them to remain strong. So she uses her free time to help spread our message by sharing our social media posts, forwarding our emails, and recruiting others to join us.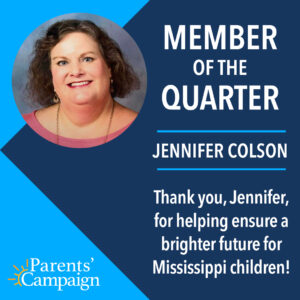 "Jennifer has such a genuine desire to make a difference," says Holly Dean, Director of Membership for The Parents' Campaign. "She takes a common-sense approach to advocacy, always seeking to understand proposed legislation and its implications for all involved. She jumps in with a willing spirit and kind heart, which is what makes her so effective in encouraging others to advocate alongside her."
Congratulations, Jennifer, and THANK YOU for making a difference in the lives of Mississippi children!
Advocates like Jennifer make The Parents' Campaign successful.
That's why
we recognize a Member of the Quarter from our statewide membership four times each year, lifting up the ways they advocate for public schools, and acknowledging their efforts with a $50 Visa gift card
– a small token of our appreciation for all the ways they improve the lives of Mississippi children.
This is a great time to help us spread the word about The Parents' Campaign. Take a moment to reach out to your friends and neighbors and encourage them to join our network.
They can sign up online here.
Because, as Jennifer Colson knows, together, we've got this!