Public education advocate and grandparent Sandra Wells of Hollandale is The Parents' Campaign's Member of the Quarter for the second quarter of 2021. A staunch supporter of the Hollandale School District, Wells spearheads parent meetings to inform and encourage other advocates. Her efforts extend well beyond her local schools, including advocating for special education and making a difference for Mississippi children at a statewide level.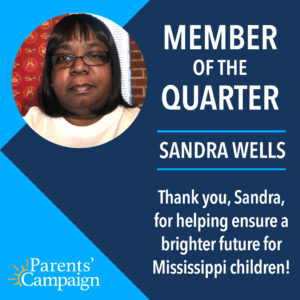 A longtime member of The Parents' Campaign, Wells taps the organization's resources to stay up to date on education issues and uses that knowledge to help others in her community understand how legislation affects children in public schools.
"When we ask our network of public school supporters to speak up on behalf of Mississippi children, Sandra always is among the first to respond," says Karen Johnson, Director of Outreach for The Parents' Campaign. "Sandra faithfully contacts her legislators and state leaders to share with them her views on legislation and policies, and she is very effective in recruiting and mobilizing other parents and grandparents to do the same."
The Parents' Campaign recognizes a Member of the Quarter four times each year, lifting up the ways they advocate for public schools, and acknowledging their efforts with a $50 Visa gift card in appreciation for all the ways they improve the lives of public school children.